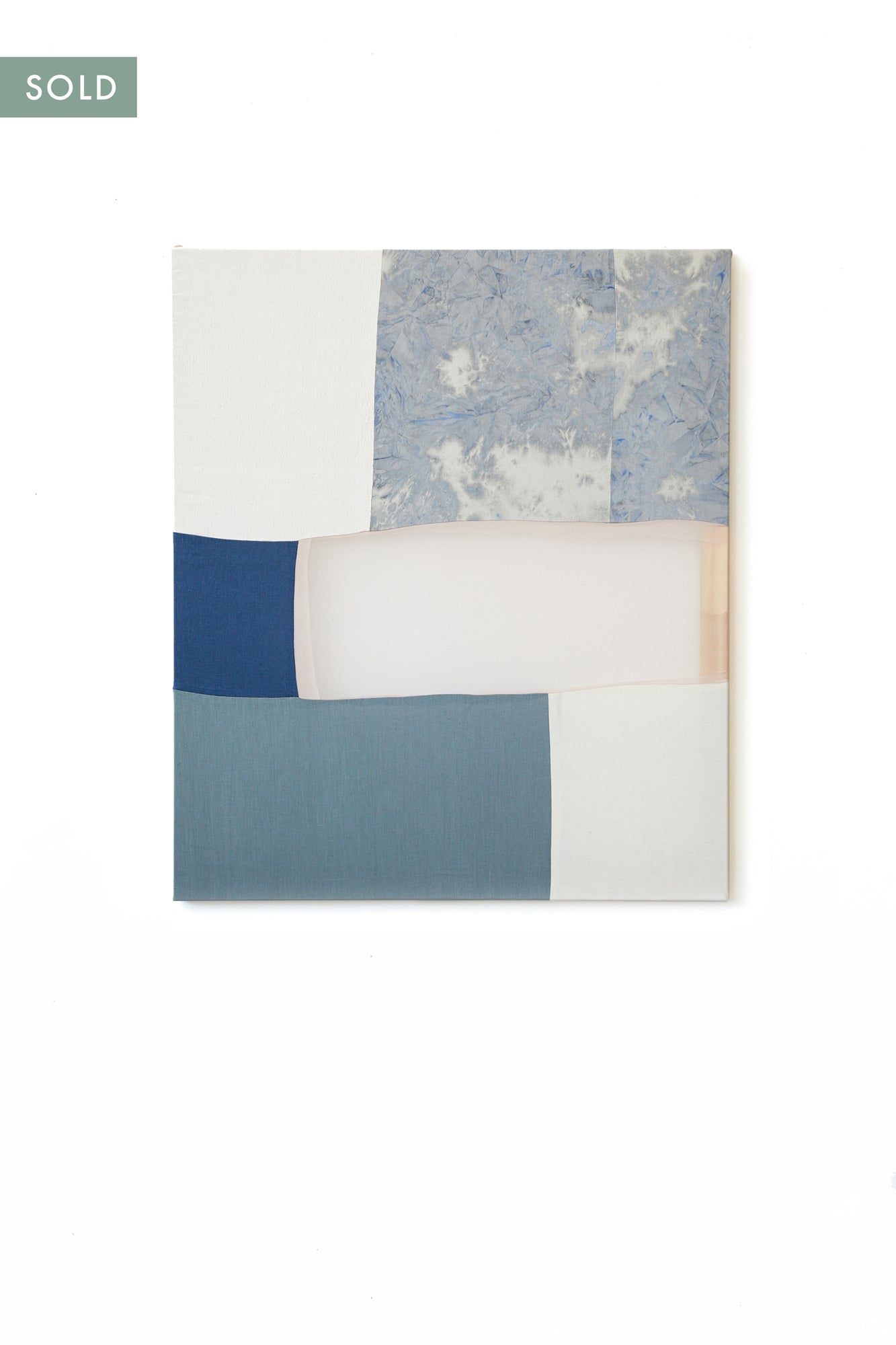 Pink Moon on Good Friday
Regular price
$8,600
This item is out of stock. We reorder based on feedback and demand. Let us know if you need it and we'll email you if we can bring it back.
A note from Caroline about her process when creating these pieces: 

These new works require a lot of time and space to breathe. The composition is simple and the work itself could be done in a day, but it's the process that makes these paintings full.  The base fabric for a lot of these works is hand-woven cotton made by artisans in Oaxaca. I lay out the fabric on my studio floor, paint, drip and pour all over the surface. The physicality of this process centers me in my body. After the fabric has lived a bit in this new state, I rip in into shapes – reminding myself (and the fabric) that nothing is permanent, nothing is static and for that reason, I never plot out anything before I start. The fragmented pieces sit on the floor of my studio, breathe again, and then on a day when I feel particularly energized I start the process of piecing them together. For this body of work, I have been particularly inspired by the women of Gee's Bend.  In their world of creations, there is no such thing as perfect, they let the fabrics guide them and it's some of the most beautiful and earnest work I've ever seen. It is incredibly honest.
40" x 46"
Sewn vintage fabrics stretched over a maple wood frame. 
Free US shipping via full service white-glove delivery service. 

Price includes beautiful maple wood frame, for additional images of framed piece email info@carolinezhurley.com
Please note all artwork orders are final sale. 
Once you have placed your order, you will receive a confirmation email.
Orders typically ship UPS within 1 - 2 business days.
New York State - 1 business day
East Coast - 1 to 3 business days
Mid-West - 2 to 4 business days
West Coast - 5 to 7 business days
Canada - 3 to 6 business days
International - 5-15 business days depending on location. Shipping with DHL.
Please email info@carolinezhurley.com with any questions.
Linen - we suggest wash cold and hang dry but if you like your linen a little more worn-in, throw it in the dryer on low heat - it will get cozy and soft real quick.
Cotton Blankets - machine wash and hang / tumble dry.
Cotton Rugs - spot clean / dry clean. 
Alpaca Wool Rugs - spot clean / dry clean.